Poetry
Across the Universe
On 2018 January 19th by monty
My love of Steven Universe knows no bounds, and so it is with great pride that I present fan poetry in anapestic tetrameter (with a cheeky iamb to start). This spoilerific homage/backstory to the show came from my love of the spectacular extended world that Rebecca Sugar and company have created. Sure, the lore is deep and mysterious, but this playful sci fi setting is a vehicle for messages of love, acceptance, bravery and equality, which makes it one of the most important tv shows of our time. My brother, Peter, liked the poem so much, that he fancied it up in a delightful poster for your enjoyment. I believe in Steven!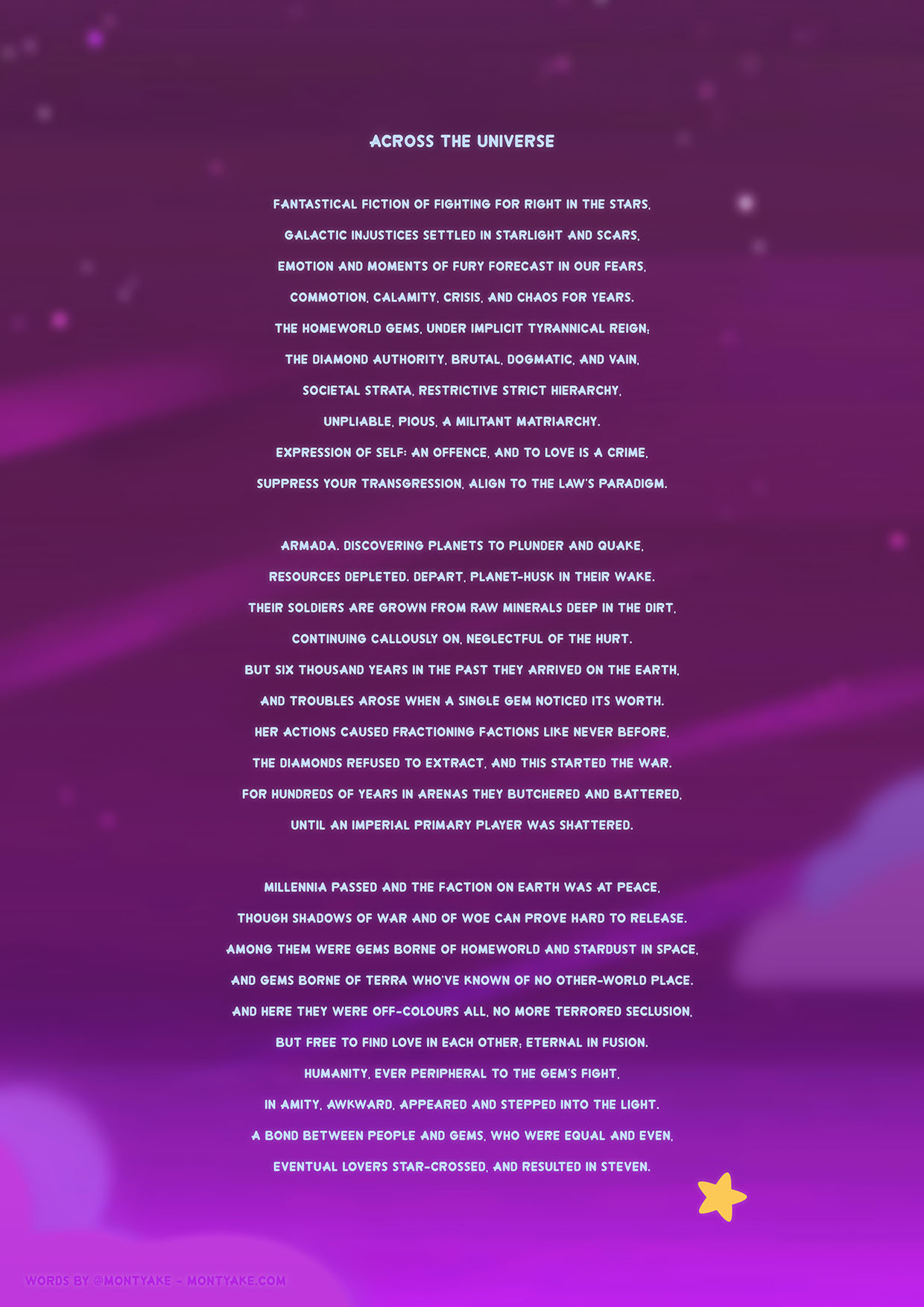 And here's the original plain text version:
Fantastical fiction of fighting for right in the stars,
Galactic injustices settled in starlight and scars,
Emotion and moments of fury forecast in our fears,
Commotion, calamity, crisis, and chaos for years.
The Homeworld Gems, under implicit tyrannical reign;
The Diamond Authority, brutal, dogmatic, and vain,
Societal strata, restrictive strict hierarchy,
Unpliable, pious, a militant matriarchy.
Expression of self: an offence, and to love is a crime,
Suppress your transgression, align to the law's paradigm.
Armada. Discovering planets to plunder and quake,
Resources depleted. Depart, planet-husk in their wake.
Their soldiers are grown from raw minerals deep in the dirt,
Continuing callously on, neglectful of the hurt.
But six thousand years in the past they arrived on the earth,
And troubles arose when a single Gem noticed its worth.
Her actions caused fractioning factions like never before,
The Diamonds refused to extract, and this started the war.
For hundreds of years in arenas they butchered and battered,
Until an imperial primary player was shattered.
Millennia passed and the faction on earth was at peace,
Though shadows of war and of woe can prove hard to release.
Among them were Gems borne of Homeworld and stardust in space,
And Gems borne of terra who've known of no other-world place.
And here they were off-colours all, no more terrored seclusion,
But free to find love in each other; eternal in fusion.
Humanity, ever peripheral to the Gem's fight,
In amity, awkward, appeared and stepped into the light.
A bond between people and Gems, who were equal and even,
Eventual lovers star-crossed, and resulted in Steven.
3 comments
Calendar
December 2021
M
T
W
T
F
S
S
1
2
3
4
5
6
7
8
9
10
11
12
13
14
15
16
17
18
19
20
21
22
23
24
25
26
27
28
29
30
31